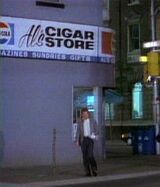 At the very end of "Dead Air", Don Schanke is sitting in Nick's car while Nick fetches him some food. Nick comes across the street from the direction of Al's Cigar Store, which is on the corner opposite where he has parked. It is possible that he got the food there, or else from a fast food restaurant out of sight beyond it, round the corner.
Ad blocker interference detected!
Wikia is a free-to-use site that makes money from advertising. We have a modified experience for viewers using ad blockers

Wikia is not accessible if you've made further modifications. Remove the custom ad blocker rule(s) and the page will load as expected.