Amalia

Amalia (from "Crazy Love").
Born
early 16th century, Italy
Died
1535 A.D., Italy (vampire bite)
Portrayed By
Danielle Brett

Eventually, Nick drains and kills Amalia.
The role of Amalia is played by Danielle Brett in the Season Two episode "Crazy Love".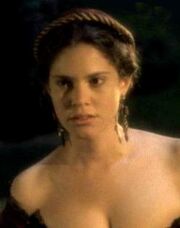 Ad blocker interference detected!
Wikia is a free-to-use site that makes money from advertising. We have a modified experience for viewers using ad blockers

Wikia is not accessible if you've made further modifications. Remove the custom ad blocker rule(s) and the page will load as expected.