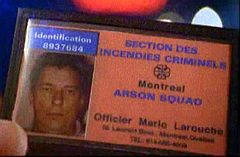 In "The Human Factor", an arson investigator from Montreal is killed in a motel room in Toronto. According to the identification card that he carries, his name is Mario Larouche. It turns out that Larouche was involved in an arson ring; and, to cover up his crimes, he had killed one of his colleagues, Robert McDonagh. It was McDonagh's girlfriend, Janette who killed him for revenge.
The card Larouche was carrying provides the following information:
Identification number: 8937684;
Where he worked:

at the top: "Section des incendies criminels" (French);
in the middle "Arson Squad" (English);
above the English, "Montreal" (NOTE: the name of the city is spelled without the acute accent over the "e", i.e. in the English style);

Rank and name: Officier Mario Larouche'
Address: 18 Laurent Boul., Montreal, Quebec (but the first digit of the number is a little blurred);
Telephone number: (too blurred to make out).
Ad blocker interference detected!
Wikia is a free-to-use site that makes money from advertising. We have a modified experience for viewers using ad blockers

Wikia is not accessible if you've made further modifications. Remove the custom ad blocker rule(s) and the page will load as expected.