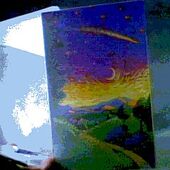 In "Only the Lonely", Nick is horrified when Schanke reminds him that it is Natalie's birthday—and her thirtieth, at that. The staff at the lab have got her a cake and a present; but Nick has got her nothing at all.
Hurriedly, he goes to a florist's shop and picks up a bunch of yellow daisies and a birthday card. Then he goes to find her, hoping that, with luck, he can give her the impression that he was waiting to get her on her own before giving them to her. He runs into her outside a small grocery store where she has been shopping. With her is a stranger—a man who has just knocked into her so that she dropped her groceries, and then helped her to pick them up. However, Nick ignores him: he is all too aware that it is Natalie whom he has to impress with his attention.
Inside, the birthday card reads:
Dear Natalie,
Happy birthday, 'with affection'

Nick
The message is hand written.
Ad blocker interference detected!
Wikia is a free-to-use site that makes money from advertising. We have a modified experience for viewers using ad blockers

Wikia is not accessible if you've made further modifications. Remove the custom ad blocker rule(s) and the page will load as expected.