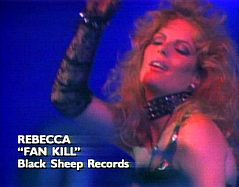 In the Season One episode "Dying for Fame", Black Sheep Records is the company with which the rock star Rebecca has a contract. They promote her tour heavily, especially relying on the controversial hit song, "Fan Kill". Rebecca's concert in Toronto is sold out, despite the fact that many people profess to object to her music, especially the lyrics to "Fan Kill".
Detectives Nick Knight and Don Schanke are assigned to provide police protection for the star during her stay in Toronto; but this quickly turns into a homicide investigation when a corpse is found in her hotel bedroom. Rebecca, who is fed up with her life as a star, initially confesses just to escape the tour; but Nick finds the real murderer. When an attempt is made on her life, he covers up the fact that it was actually someone else who was killed; and Rebecca goes her own way, free of her unwanted fame.
Her record company decides that her death will be good for business, and plan to release a "Best Of" compilation.
NOTE: There actually is a company called Black Sheep Records.
Ad blocker interference detected!
Wikia is a free-to-use site that makes money from advertising. We have a modified experience for viewers using ad blockers

Wikia is not accessible if you've made further modifications. Remove the custom ad blocker rule(s) and the page will load as expected.