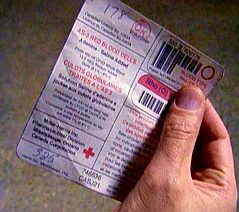 A label for Type O blood is the second clue in a virtual reality game that Nick is forced to play in the episode Games Vampires Play.
The detectives investigating the homicide of videogame designer R. H. Lo are challenged to play his latest game in order to find clues to the identity of his murderer—his business partner, Rita Scott. However, Det. Nick Knight is the only one to recognize the challenge for what it really is. As he wins each level of the game he is allowed to find a clue as a prize before moving on to the next level.
Once all the clues have been discovered, their initial letters form an anagram of the place where Rita Scott is hiding.
The label has the following information on it:
RIGHT SIDE:
Top:

a bar code
the word "Blood Type" stamped in red, and the letter "O" written quite large in red ink.

Middle: (partly covered by Nick's finger)

"Rho (O)" (rest is hidden)
a bar code

Bottom: (partly covered by Nick's finger)

What we can see suggests that the information in red refers to a certification of freedom from infection, and the information in black refers to a circular. In each case, the same information is written twice, first in English and then in French.
LEFT SIDE:
Top:

the code number 178 (handwritten in blue ink)
the word "Volunteer", stamped "OK" in red
underneath these, very small:

top line: Canadian Licence No. 1063A
lower line: (French version of the top line)

Middle (Section 1):

AS-3 Red Blood Cells (in red)
Adenine-Saline added (in black)
in small letters:

From 450 mL CP/O Whole Blood
15.0 mL/g Sodium added
Store at 1½ to 6½ C

Middle (Section 2): (same in French)

Culots globulaires traites a'l AS-3
Solution saline d'adénine ajoutée aux culots globulaires
in small letters: (French version)

Bottom:

company name and address:

Miller Harris Inc.
Pharmaceutical Division
Mississauga, Ontario
Canada Corporation

red cross
ACROSS THE BOTTOM:
Left:

the number 325 (handwritten in blue ink)
underneath, very small:

Harris Inc. Mississauga Ont.

Middle:

A serial number at the top: 746636
Another code at the bottom: CAS J21

Right: (hidden under Nick's thumb)
Ad blocker interference detected!
Wikia is a free-to-use site that makes money from advertising. We have a modified experience for viewers using ad blockers

Wikia is not accessible if you've made further modifications. Remove the custom ad blocker rule(s) and the page will load as expected.