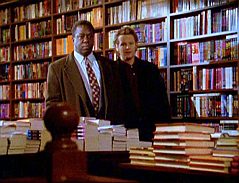 In the episode "Jane Doe", a local shop holds a book signing for Jordan Manning's book Killing Mind.
Jordan Manning and Capt. Joe Reese have a long history of mistrust. Reese always thought that it was Manning who was responsible for a series of racially based murders that had taken place when he was a young police officer; but he had not been able to prove anything at the time, and the murders stopped.
Reese is sure that Manning's book is more an autobiography than a novel about a serial killer. He therefore goes to the book signing with Det. Nick Knight to warn Manning that he is keeping an eye on him. Manning pretends to be pleased to see him. Mockingly, he writes a taunting dedication inside the cover of a copy of Killing Mind, signs it, and hands it to Reese. The situation is briefly tense; but then Reese and Nick leave the store.
Ad blocker interference detected!
Wikia is a free-to-use site that makes money from advertising. We have a modified experience for viewers using ad blockers

Wikia is not accessible if you've made further modifications. Remove the custom ad blocker rule(s) and the page will load as expected.