CTOK is a fictional radio station in Toronto, broadcasting at 92.3 MHz on the FM dial. It appears in the episode "Dead Air". Among its various offerings, the station broadcasts The Christina Noble Show and Kinky Talk, both of which are night time call-in shows, with hosts who field phone calls from listeners.
The Christina Noble Show is a pop psychology show, hosted by Dr. Christina Noble, a qualified psychiatrist who left medical practice after one of her patients committed matricide. He was placed in the King's Mills Psychiatric Hospital; but, unknown to her, was eventually released. Identifying her with his mother, and feeling that she had rejected him, he started a campaign to torment her: he selected a victim, called the station when her show was on, and then murdered his victim on air.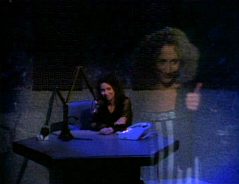 Dr. Noble went to the police; and Nick Knight and his partner Don Schanke were assigned to the case. When they finally decided that her story was not simply a publicity stunt, Nick took her place on air in the hope of keeping the murderer on line long enough for the call to be traced. Although at that point it was Dr. Noble herself who was targeted, the killer did indeed want to justify himself at sufficient length to be tracked down in time to rescue her.
Ad blocker interference detected!
Wikia is a free-to-use site that makes money from advertising. We have a modified experience for viewers using ad blockers

Wikia is not accessible if you've made further modifications. Remove the custom ad blocker rule(s) and the page will load as expected.