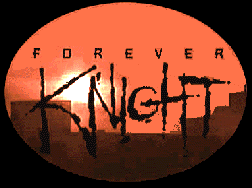 Camarila's Forever Knight Page was part of Camarila's Image Galleries, a fan website for several collections of images from a variety of sources. The Forever Knight photo gallery has over thirty images. These include both screen captures and publicity photos.
There is a link to an episode guide. This has very brief synopses, and also provides the original air date for each episode.
Ad blocker interference detected!
Wikia is a free-to-use site that makes money from advertising. We have a modified experience for viewers using ad blockers

Wikia is not accessible if you've made further modifications. Remove the custom ad blocker rule(s) and the page will load as expected.