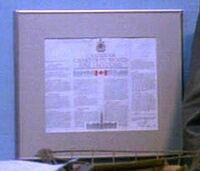 On the front wall of the 96th Precinct police station underneath the photograph of Queen Elizabeth II hangs a framed copy of the Canadian Charter of Rights and Freedoms.
The Canadian Charter of Rights and Freedoms (known colloquially simply as "the Charter") is a bill of rights entrenched in the Constitution of Canada. It forms the first part of the Constitution Act, 1982.
The Charter guarantees all people in Canada certain political and civil rights and freedoms. In particular, it enshrines the "four freedoms" (conscience, speech, assembly, and association); makes both French and English official languages in Canada; grants citizens the right to vote; guarantees equality of treatment without discrimination; guarantees habeas corpus, the right to a speedy trial, the right to a lawyer, and the right to be presumed innocent until proven guilty; and acknowledges the right of Canadian citizens to return home to the country.
Ad blocker interference detected!
Wikia is a free-to-use site that makes money from advertising. We have a modified experience for viewers using ad blockers

Wikia is not accessible if you've made further modifications. Remove the custom ad blocker rule(s) and the page will load as expected.