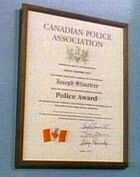 Joe Stonetree has numerous framed photographs and documents on the walls of his office. One of these is a Police Award from the Canadian Police Association. It hangs just to the left of the big display of precinct badges, on the wall as you come in to the room.
Even the best image of the award is insufficiently distinct for much to be made out. However, it is possible to see the following:
"Canadian Police Association" at the top
"Joseph Stonetree" in the middle in an ornate Gothic-style script
"Police Award" slightly underneath Stonetree's name
three signatures at the bottom right
the Canadian flag at the bottom left.
Ad blocker interference detected!
Wikia is a free-to-use site that makes money from advertising. We have a modified experience for viewers using ad blockers

Wikia is not accessible if you've made further modifications. Remove the custom ad blocker rule(s) and the page will load as expected.