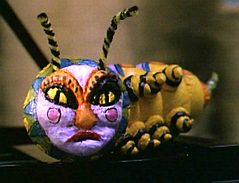 One of the first indications that something odd is going on in "Curiouser and Curiouser" is the presence in Nick's loft of a large toy caterpillar, which appears to be made out of papier mâché. It quickly becomes obvious that there are many alterations in the world of the story, not least of which is the fact that Nick appears to be married to Janette, and the two of them have a baby, one of whose toys presumably is the caterpillar. At the end of the episode, it is revealed that all has actually been a dream.
Ad blocker interference detected!
Wikia is a free-to-use site that makes money from advertising. We have a modified experience for viewers using ad blockers

Wikia is not accessible if you've made further modifications. Remove the custom ad blocker rule(s) and the page will load as expected.