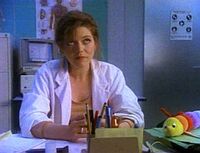 In one scene in the Season Two episode "Hunted", a toy caterpillar can be seen on Dr. Lambert's desk. It is almost out of shot, and never referred to by anyone in the scene, which involves Nick Knight and his partner Schanke going to Dr. Lambert's office for assistance with their investigations.
Strictly speaking, the toy is not a prop: its appearance on the set was an accident. The actress who played Natalie Lambert, Catherine Disher, had had her young son on the set a few moments earlier, and his toy had been left on the desk without anyone spotting it.
The caterpillar is a soft toy suitable for an infant. It is made of several cloth balls sewn together. Each ball is a different colour, appearing in rainbow sequence: yellow, orange, red, mauve, light blue. A pair of maroon "antennae" appearing to be made of felted wool are sewn on the yellow head of the caterpillar, along with a pair of black-and-white "eyes".
Ad blocker interference detected!
Wikia is a free-to-use site that makes money from advertising. We have a modified experience for viewers using ad blockers

Wikia is not accessible if you've made further modifications. Remove the custom ad blocker rule(s) and the page will load as expected.