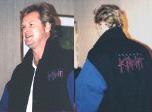 In 1998, the Geraint Wyn Davies Fan Club sold Forever Knight jackets through the Stormy's SciFi Window to Fun! website. (The page was last updated 19 January 1999.) With every jacket ordered the club made a donation to the Children's Hospital Foundation in the purchaser's name.
The jacket was created by Robin Sexton and done by Blank Stitches. It was made of black and blue denim, and available in men's sizes S, M, L, XL, and XXL. It had Forever Knight logos on both the front and back (as shown in the pictures). Also included on the jacket were the GWDFC '98 lettering and small fangs over the front logo.
The jacket cost US$150, including shipping, with delivery 4-6 weeks within the U.S. and 6-8 weeks for all overseas orders. All ordering and paperwork was handled by Barb (Stormy) Starmer.
Ad blocker interference detected!
Wikia is a free-to-use site that makes money from advertising. We have a modified experience for viewers using ad blockers

Wikia is not accessible if you've made further modifications. Remove the custom ad blocker rule(s) and the page will load as expected.