"
I don't tan. I don't burn. I implode.
"
 

— Nick Knight, Close Call
When Nick saves Schanke's life during a fire fight, Schanke can't help but notice Nick has taken up flying. Despite Nick's hypnotic suggestion to forget what he saw, Schanke begins investigating Nick's past. Natalie can't deflect him and Janette's attempts to hypnotise him fail. The trail soon leads him to conclude his partner is a vampire and from there to LaCroix. The question is, what is LaCroix going to do with the inquisitive Schanke?
Guest Cast
Edit
Detailed Story Recap
Edit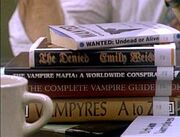 Vampire Lore
Edit
Fan Fiction
Edit
Behind the Scenes
Edit
Continuity
Edit
Canadian Content
Edit
Ad blocker interference detected!
Wikia is a free-to-use site that makes money from advertising. We have a modified experience for viewers using ad blockers

Wikia is not accessible if you've made further modifications. Remove the custom ad blocker rule(s) and the page will load as expected.