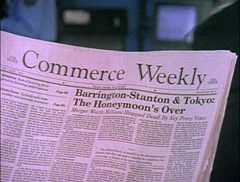 Commerce Weekly is a business oriented newspaper that Nick consults in Forward Into the Past.
It is the headline story, "Barrington-Stanton & Tokyo: The Honeymoon is Over", that particularly intrigues Nick because it supplies the motive for attempted murder. Under the headline it reads, "Merger Worth Billions Stopped Dead by Key Proxy Voter".
Jeremy Stanton, who runs the company, has arranged a very profitable business deal that is being blocked by Catherine Barrington, whom Nick had whisked to safety decades earlier. From abroad, she had been able to exercise her voting rights without Stanton discovering her whereabouts. Now, though, she has returned to Toronto; and Stanton knows that only by eliminating her will he be free to sell the company as he wants.
Ad blocker interference detected!
Wikia is a free-to-use site that makes money from advertising. We have a modified experience for viewers using ad blockers

Wikia is not accessible if you've made further modifications. Remove the custom ad blocker rule(s) and the page will load as expected.