Cop Watch is one of the most popular television series on the CWB network. It is a reality-based show in which the host, Tawny Teller, accompanied by a cameraman, travels for a week with a pair of police officers, observing and filming them at work. She also interviews them, at home as well as at work. Background material on the officers' personal lives is worked into the show.
In the episode Unreality TV, the Metropolitan Police agree to let Teller do a segment on their Homicide Department; and she comes to the 27th Precinct police station, where she is allowed to observe Detectives Nick Knight and Don Schanke on the job. She and her cameraman even are allowed to travel with them in Nick's car, filming the partners on the way to the crime scene.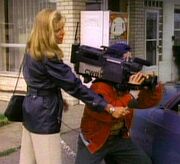 Whereas Schanke is excited to be near celebrity, and eager to snatch his fifteen minutes of fame, Nick has other concerns. For one thing, Teller and her cameraman have no sense of the danger, even when the perpetrator of the crime is still in the area. When they are being shot at, the cameraman continues to film. The only humour the detectives find in the situation comes when the supposedly hardy news crew find their stomachs too weak to cope with an autopsy.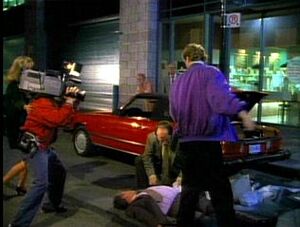 Yet there is more: Nick's ability to use his vampire abilities is hampered by the presence of outsiders. Eager to pursue the story, Teller eagerly pursues Nick, making it impossible for him to fly in pursuit when the suspect flees. Matters come to a head when, thinking that they are absent, Nick does venture use his powers to catch the killer, only to find that Teller has caught him flying on camera. It takes the threat of the Enforcers to persuade her to destroy the tape and let him hypnotize her into forgetting what she has seen.
Ad blocker interference detected!
Wikia is a free-to-use site that makes money from advertising. We have a modified experience for viewers using ad blockers

Wikia is not accessible if you've made further modifications. Remove the custom ad blocker rule(s) and the page will load as expected.