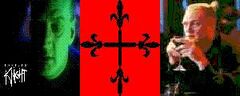 The Cousins' List Page was a faction website associated with one of the Cousins' mailing lists (cousins@majordomo.net), which was originally set up for War 9. The site was originally at http://www.geocities.com/TelevisionCity/6339/cousins/, mirrored at http://www.geocities.com/~sellersjr/cousins/.
The website included the following:
The site was ambitious in scope. The fiction archive, in particular, was set up to contain a significant number of stories, organized by title and author. A screen capture archive was also planned. However, the actuality was another matter: very few stories were ever actually included, updates were few, and the site lasted only a few years.
The Wayback Machine archives both the original and mirror sites. The copy of the mirror site is better, since more of its contents got saved: more graphics; and, in particular, more of the war posts and more sections of the GSS story.
On 16 July 2015, Bob Sellers put up a copy of the Cousins' List Page on his website: http://gssold.kiltedswinebbq.com/index.html.
Ad blocker interference detected!
Wikia is a free-to-use site that makes money from advertising. We have a modified experience for viewers using ad blockers

Wikia is not accessible if you've made further modifications. Remove the custom ad blocker rule(s) and the page will load as expected.