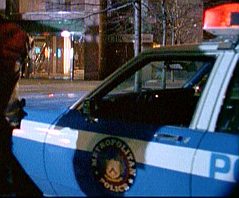 On the door of each police cruiser that appears in Forever Knight is a crest—the crest of the Metropolitan Police in the series. This is based on the design of the actual crest of the real Metropolitan Toronto Police Service of the time, though it differs in a few minor details.
The police force of Toronto today has a somewhat different crest. The boroughs and cities of the old Metropolitan Toronto were amalgamated into a megacity in 1998, after Forever Knight was off the air. At the same time, the name of the police force was changed to the Toronto Police Service (i.e. the word "Metropolitan" was dropped). This change is reflected in the new wording of the crest as shown to the right.
The components of the current Toronto Police Service crest are identical to those of the old Metropolitan Toronto Police crest except for the change in name:
winged wheels of industry on the top part of the shield
crown commemorating the coronation year of Queen Elizabeth II in 1953
two books for education
Caduceus - Roman god of commerce
chevron for housing
beaver from the arms of the city of Toronto
This should therefore also be taken to be the interpretation of those components of the crest that are included in the one seen on the squad cars in Forever Knight. As the cars were not filmed in detail, the decal on the doors is rarely seen well; but it certainly includes the central shield with the red chevron. It does not appear to include the beaver at the top.
Taken in part from Wikipedia article on the Toronto Police Service
Ad blocker interference detected!
Wikia is a free-to-use site that makes money from advertising. We have a modified experience for viewers using ad blockers

Wikia is not accessible if you've made further modifications. Remove the custom ad blocker rule(s) and the page will load as expected.