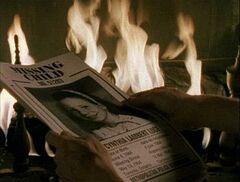 When Natalie Lambert's goddaughter, Cynthia disappeared, the police issued a missing child poster, which was prominently posted around the city.
We first see the poster on the wall of the room where the search is being coordinated and tips received. Natalie is tirelessly working at the site. However, when Cynthia's body is discovered, she is removed from the case and another pathologist brought in to do the autopsy. Natalie has to go home, where—deeply depressed over her goddaughter's death—she burns copies of the missing child poster in her fireplace.
The Missing Child Poster
Edit
At the top of the poster in large bold capital letters are the words "MISSING CHILD".
Underneath is a large box, containing all the rest of the contents of the poster—save for the number 51203, which is inset into the top of the box, breaking the top line. This presumably is an identifying number for the case.
Inside the box are the following:
a large photograph of Cynthia
underneath, her name in capital letters: "CYNTHIA LAMBERT LUCE". This is separated by an underline from the next section.
below that, a section of relevant information in two columns, English on the left and French on the right
Date of Birth
June 4, 1984
Missing since:
May 12, 1994
Toronto, Ontario
date de naissance
4 juin 1984
disparu depuis
12 mai 1994
Toronto, Ontario
At the bottom, in capital letters, "METROPOLITAN POLICE DEPARTMENT". This is separated from the preceding section by an underline.
Ad blocker interference detected!
Wikia is a free-to-use site that makes money from advertising. We have a modified experience for viewers using ad blockers

Wikia is not accessible if you've made further modifications. Remove the custom ad blocker rule(s) and the page will load as expected.