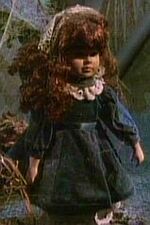 In Last Act, a vampire whom Nick Knight had known off and on for centuries commits suicide. Erica was an actress and playwright, and found great satisfaction in her art. However, she also felt the sterility of the vampire life, and compensated for it by playing with a lifelike wax doll. She gave it the name "Katherine", and kept it for at least a couple or centuries. Significantly, "Katherine" is also the name of the character in Erica's play, Last Act, which is in production at the Factory Theatre at the time she dies. After Erica's death, Nick and Janette find the doll in her home, and Nick takes it away with him. He later goes to the play.
The doll wears a dark grey dress with a satin ribbon sash in a similar shade. The dress has a lace collar, and the doll also has a lace cap on her hair.
Ad blocker interference detected!
Wikia is a free-to-use site that makes money from advertising. We have a modified experience for viewers using ad blockers

Wikia is not accessible if you've made further modifications. Remove the custom ad blocker rule(s) and the page will load as expected.