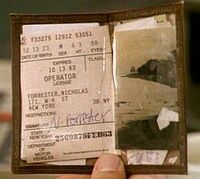 In
"Close Call"
, when Schanke got curious about Nick's odd behaviour, he went to
the Raven
to see if he could find out something from
Janette
. He came out to discover that a traffic cop was about to ticket the car he was driving—
Nick's
car, which he had been allowed to borrow for the day. Rummaging in the glove compartment for the registration, Schanke discovered an old
New York driver's permit
with Nick's picture. It was not only years out of date, but made out in a different name with the following information:
It was issued to Nicholas Forrester.
He lived at 171, W 4 St. New York.
His date of birth was 10 13 23 (i.e. 13 October 1923).
His height was 6 ft 3 inches, and his eyes were brown.
The license number is F33275 12912 53051.
It was issued by the State of New York, Department of Motor Vehicles. No restrictions.
Its expiry date was 10 13 63 (i.e. 13 October 1963).
The following number and date are stamped on it: 2369879FEB83.
There is 38 NY typed in opposite his address.
Ad blocker interference detected!
Wikia is a free-to-use site that makes money from advertising. We have a modified experience for viewers using ad blockers

Wikia is not accessible if you've made further modifications. Remove the custom ad blocker rule(s) and the page will load as expected.