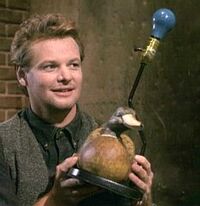 In Partners of the Month, Nick Knight is confounded by the sudden arrival of his partner, Don Schanke, who has had quarrelled with his wife Myra and proposes to move in with Nick. With him, he brings a large duffel bag full of the usual luggage. But he also lugs along a peculiarly hideous duck lamp.
The base of this lamp has been fashioned out of wood, carved in the form of a duck, and stained to resemble the plumage of a mallard drake. The lamp has no shade; and, for some reason, it has been fitted with a blue light bulb.
When Nick's lack of enthusiasm for having a room mate finally led to Schanke's departure, he went to the Raven, taking his lamp with him. There he set it on the bar, while he sat complaining to Janette until she finally managed to convince him to return to his wife. (He presumably took the lamp with him, though he must have left it in his car since it wasn't with him in the next scene.)
Ad blocker interference detected!
Wikia is a free-to-use site that makes money from advertising. We have a modified experience for viewers using ad blockers

Wikia is not accessible if you've made further modifications. Remove the custom ad blocker rule(s) and the page will load as expected.