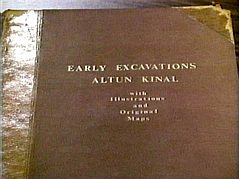 Early Excavations: Altun Kinal: With Illustrations and Original Maps is a book about a nineteenth century archaeological exploration of a Mayan site, Altun Kinal. The book is consulted by Dr. Alyce Hunter in Dark Knight.
Dr. Hunter is intrigued by the unusual knowledge of early excavations of Mayan remains exhibited by the detective, Nick Knight, who has been assigned to deal with the murder of a security guard at the museum where she is working. When she discovers that the photograph of a group of nineteenth century archaeologists who worked at Altun Kinal includes a man who bears a striking resemblance to the detective in question, she decides to follow him and find out his secret. Ultimately, this leads to her being turned into a vampire.
Ad blocker interference detected!
Wikia is a free-to-use site that makes money from advertising. We have a modified experience for viewers using ad blockers

Wikia is not accessible if you've made further modifications. Remove the custom ad blocker rule(s) and the page will load as expected.