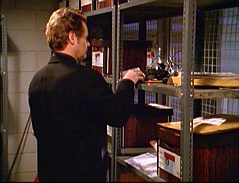 The evidence locker at the 96th Precinct police station is a small set that was built part way through Season Three. It only appeared in two episodes, Games Vampires Play and the series finale, Last Knight.
The set may or may not have been attached peripherally to the main set for the police station; but it is not visibly part of the main set, and may have been tucked in elsewhere on the sound stage.
Probably in the basement of the station, the evidence locker is accessed off a windowless corridor, and has blank concrete walls inside. On the corridor wall opposite the door, there is a bulletin board.
The evidence locker is basically a wire cage—at least from the perspective of someone coming in from the corridor. The wire is presumably intended to ensure that no unauthorized person can easily break in. The door is also of wire mesh, and has a lock.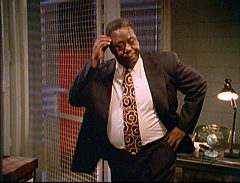 Just inside the door, to the right as you face the door, is a desk. Usually, someone is on duty here, checking evidence in (and out, if a detective needs it for a case, or it is being sent for forensic analysis). No doubt, anyone coming into the evidence locker is also noted, along with the times they entered and left the room. In Last Knight, a clerk coming out of the locker is ambushed by an escaped prisoner, though he is allowed to escape.
Although normally there is someone on duty, Nick comes down surreptitiously in Games Vampires Play, looking for the equipment used to play a virtual vampire game. Since he had been told not to play it but concentrate on finding who murdered the man who created it, he therefore must have chosen to come at a time when the evidence locker was unattended.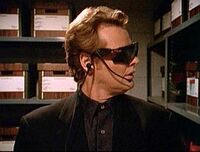 The walls of the evidence locker are lined with metal shelving on which the evidence is stored in uniform brown cardboard file boxes, each labelled on the front with the case identification. Along the rear wall, the shelves are fairly full of boxes. However, Nick found the one he was looking for on the shelves by the corridor, which presumably hold the evidence on current cases. At any rate, those shelves were at that time far from full.
Ad blocker interference detected!
Wikia is a free-to-use site that makes money from advertising. We have a modified experience for viewers using ad blockers

Wikia is not accessible if you've made further modifications. Remove the custom ad blocker rule(s) and the page will load as expected.