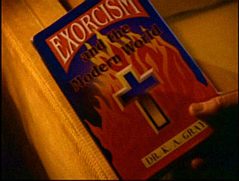 Exorcism and the Modern World by Dr. K. A. Gray is the book that Nick and Tracy found in Melanie Sawchuck's apartment in "Sons of Belial".
Melanie had the book because she believed that she had been possessed by a demon. For this reason, she wanted to be exorcized by Dr. Max Vanderwal. However, she instead committed suicide. Nick and Tracy were in her apartment investigating her death.
Ad blocker interference detected!
Wikia is a free-to-use site that makes money from advertising. We have a modified experience for viewers using ad blockers

Wikia is not accessible if you've made further modifications. Remove the custom ad blocker rule(s) and the page will load as expected.