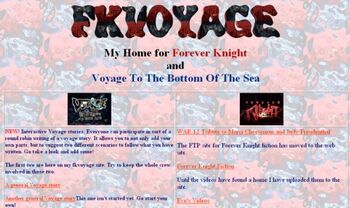 www.fkvoyage.com (owned by Stephanie Kellerman) was a website devoted to two fandoms, Forever Knight and Voyage to the Bottom of the Sea. The former half of the website included the following:
Site History
Edit
At one time, FKVoyage was located at ftp://ftp.win.net/winnet/fkvoyage/, before moving to http://www.fkvoyage.com/fkfanfic/.
In 2012, Stephanie moved the Forever Knight contents from FKVoyage in order to consolidate it with the material she hosts on www.foreverknight.org.
New locations:
External Links
Edit
Ad blocker interference detected!
Wikia is a free-to-use site that makes money from advertising. We have a modified experience for viewers using ad blockers

Wikia is not accessible if you've made further modifications. Remove the custom ad blocker rule(s) and the page will load as expected.