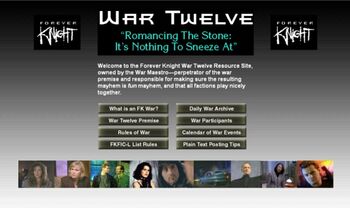 "Romancing the Stone: It's Nothing to Sneeze At" was the twelfth of the FK Wars. It ran from 8 November to 22 November 2004. A reasonably coherent reading order for the posts can be found on the List of War Posts.
War Maestro
Edit
An FK fan buys a photocopy of the Blackwing Treaty on eBay for a song (plus shipping). When it arrives she settles down for a little light, historical reading.
To her amazement the photocopy shows mysterious text written on the borders of the treaty. What was very faint on the original shows up clearly on the photocopy.
Intrigued, she does some research to figure out what the mysterious text says. The language is badly transliterated Mississauga, but she can't find anyone who can translate it. Finally, she calls upon a Vaquero friend to ask Vachon if he can help out.
Vachon uses his knowledge of Mississauga to translate the text. According to him, it's a cryptic reference to a large carved rock that contains "the cure for the disease that bites viciously like a wolf in winter and often kills."
There is only one conclusion for an FK fan to arrive at: this is the cure for vampirism! Nick needs to find this carved rock, located somewhere in Southern Ontario. To help or hinder his cause, all the factions are called to Toronto.
The rules for FK War XII include the following:
An FK War is not a role-playing game. Participants are not allowed to assume the persona of any FK character or assume supernatural powers. Participants come as themselves, with slight exaggerations allowed. This is how fans get to know one another.
All participants must have a permission slip on record with their faction leader by October 25, 2004.
Attacks on factions or individuals are allowed, and indeed, are encouraged. As Susan Garrett said, "In a war, an attack is the sincerest form of affection."
Individuals must be notified in general terms about the time of an attack to ensure there are no conflicts in the time line. A short note to the person stating what time you will be using him/her in an attack is all that is necessary. If a time line conflict arises, the attacked party may require the attacker to change the time, but has no say over content. Attacks work the best when attacker and attackee are cooperating happily in the spirit of mutual mayhem!
Attacks may not be ignored. During the course of the war, each faction may dismiss only one attack as a dream. Any faction or individual who has been attacked more than four times in the war has a right to refuse further attacks for a period agreed upon between that faction's leaders and the WM.
Because the war is played in real time, dropping post-dated stories (that is, posting a story on Tuesday that is dated as taking place on Thursday) is strongly discouraged. If an attack has been agreed on beforehand but is then post-dated, the attacked party has the right to ask the WM to disallow the attack.
If you want to use an FK character, permission must be obtained from the leader(s) of the character's primary faction, who are responsible for keeping the character's schedule. [ ... ] Leaders must grant permission unless the time is already given to someone else. Leaders do not have the right to vet or control content of posts with borrowed characters. Note:' Since Janette, Miklos, Alma, and Urs are in the care of the War Maestro, so by extension is the Raven. Use of these characters and location is open to all factions, depending on availability.
Joining other faction's lists for spying purposes (for instance, if someone playing with the UF joins the NA under another name in order to scope out their war plans) is not permitted and is grounds for dismissal from the war.
No killing, maiming, or bringing across of players or FK characters is permitted.
No crossover characters from other shows are permitted.
Factions Involved
Edit
The factions playing in War Twelve were: the Cousins, Knighties, Dark Perks, Mercenaries, Die-Hards, Nick & NatPack, Nunkies Anonymous, RatPack, Unnamed Faction, and Vaqueras.
War Sites
Edit
The main war site for War Twelve is War Twelve: Romancing the Stone: It's Nothing To Sneeze At, which was created by the War Maestro.
In addition, the following war sites were created by the factions:
The Die-Hards and Rat-Pack did not create war sites.
Management of Characters
Edit
For this war, characters are managed by the following factions/people:
NOTE: The War 12 website was originally hosted on a free site at http://sky.prohosting.com/fkwar12/index.html to preserve the anonymity of the War Maestro while the war was on. It was moved to its current location 12 March 2011.
Calendar of War Events
Edit
This calendar lists major events officially scheduled during the War.
Nov 8 (Mon)   • War starts
Nov 9 (Tue)   • UF party in honor of Janette at the Hive, 10 pm to 2 am
Nov 10 (Wed)
Nov 11 (Thu)
Nov 12 (Fri)
Nov 13 (Sat)   • Light snow starts falling at night (NA request)
Nov 14 (Sun)   • Light snow stops in the morning (NA request) • NA Carnival to raise funds for Shrine reconstruction
Nov 15 (Mon)   • Heavy snow and ice starts (NA request)
Nov 16 (Tue)   • Heavy snow and ice continues (NA request)
Nov 17 (Wed)   • Heavy snow and ice ends (NA request)
Nov 18 (Thu)   • Weather clears and warms up • The Sacred Stone is found
Nov 19 (Fri)   • NA Talent Show • NA Bar Fight (continues through Saturday morning) • The Sacred Stone is translated
Nov 20 (Sat)
Nov 21 (Sun)   • Clear, all snow melted • Memorial for Marci and Judy in the NNPack garden • Knightie-sponsored party at the Raven for all factions
Nov 22 (Mon)   • War ends
Memorable moments
Edit
Ad blocker interference detected!
Wikia is a free-to-use site that makes money from advertising. We have a modified experience for viewers using ad blockers

Wikia is not accessible if you've made further modifications. Remove the custom ad blocker rule(s) and the page will load as expected.