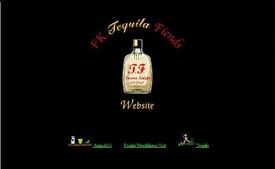 The FK Tequila Fiends Website (http://leecee.tripod.com/viva.html) is the faction site for the Tequila Fiends, a group of Forever Knight fans who like tequila.
Site Contents
Edit
list of faction members
"Tequila!!Where does it come from?... Ok, besides a bottle or the Gods." (definition and description of tequila)
"Larry Hunter's tequila tips" (connoisseur's tips about types of tequila)
"FK Tequila Fiendishness Test" (a tongue-in-cheek quiz)
Site Design
Edit
All pages are on a black background. Western-themed graphics (such as a desert cactus divider bar) are used to capture the spirit of tequila. At the bottom of the index page is a photomanipulated screen capture of LaCroix drinking out of a glass, described as an example of tequila drinking in Forever Knight.
Website Location
Edit
Ad blocker interference detected!
Wikia is a free-to-use site that makes money from advertising. We have a modified experience for viewers using ad blockers

Wikia is not accessible if you've made further modifications. Remove the custom ad blocker rule(s) and the page will load as expected.