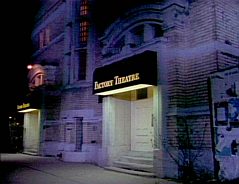 It is at the Factory Theatre that Erica Bentley's last play is put on in "Last Act". (The playbill that is handed to Nick in Erica's apartment actually says "Palace Theatre" at the top; but the establishing shot for the theatre scenes clearly shows the Factory Theatre.)
The Factory Theatre was founded in 1970 with the mandate of performing new Canadian plays. It has produced over two hundred plays in mainstage productions, and six hundred more in workshops and other formats. Its location since 1984 has been 125 Bathurst Street.
Ad blocker interference detected!
Wikia is a free-to-use site that makes money from advertising. We have a modified experience for viewers using ad blockers

Wikia is not accessible if you've made further modifications. Remove the custom ad blocker rule(s) and the page will load as expected.