"
This guy has got the weirdest taste of any cop I've ever known. He doesn't like doughnuts, he doesn't like burgers.
"
 

— Schanke, Father Figure
When Lisa, a troubled ten-year-old, witnesses a mob hit, she has to go into protective custody. Since her father is out of town at work, Nick is conscripted to take care of her at the loft.
Guest Cast
Edit
Detailed Story Recap
Edit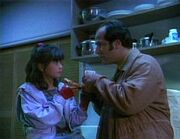 Vampire Lore
Edit
Nick is sometimes visible in mirrors.
Fan Fiction
Edit
Natalie: I've got places to go, people to dissect.
Behind the Scenes
Edit
The German title for this episode is "Väterliche Gefühle" ("Fatherly Feelings").
Continuity
Edit
Canadian Content
Edit
Ad blocker interference detected!
Wikia is a free-to-use site that makes money from advertising. We have a modified experience for viewers using ad blockers

Wikia is not accessible if you've made further modifications. Remove the custom ad blocker rule(s) and the page will load as expected.