"
You have to understand that every drop of blood has your whole life in it. It's not just our food. It's the way we feel life.
"
 

— Nick Knight, Francesca
When drained bodies are discovered, a psychiatrist suggests that one of her patients, Frank LoPietro, is the reincarnation of a vampire Nick met in the eighteenth century.
Guest Cast
Edit
Detailed Story Recap
Edit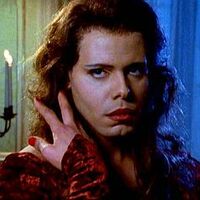 Vampire Lore
Edit
The following vampire lore was introduced or referred to in this episode:
When vampires drink human blood, they temporarily imbibe the history and abilities of the person whose blood it was.
So-called "special vintages" of blood are drawn from humans whose character or abilities are of interest (such as poets and musicians).
Fan Fiction
Edit
LaCROIX (as the Nightcrawler): Do we return to this mortal coil unfettered by our sins? Or burdened by them? Perhaps we are not forgiven as easily as some would believe. Perhaps to be immortal in this way is eternal judgment—a true life sentence from which we, as sinners, can never be absolved.
VACHON: You said the blood was being collected, right? From a poet? You can always find a market for a special vintage; poet... musician... even an actor brings a premium if you have the right customer.
Behind the Scenes
Edit
The German title of this episode is the same as the English one.
This was the first episode directed by Nigel Bennett.
"Francesca" and the preceding episode, "Ashes to Ashes", are the only episodes in season 3 that were filmed out of running order. However, "Ashes to Ashes" had to be shown as the penultimate (rather than the antepenultimate) episode of the series. That is the only order that makes internal sense. Vachon appears in "Francesca" and could not already have been killed in "Ashes to Ashes".
Continuity
Edit
Canadian Content
Edit
When "Francesca" was first shown, there was a mix-up in the tapes at WKBW, the Buffalo station that showed FK. As a result, halfway through the episode, fans in the Buffalo/Toronto area suddenly found that they were watching a rerun of the second half of "Jane Doe", the previous week's episode. There was much comment at the time on FORKNI-L as they tried to find out what had happened and if other stations had also been affected. (The problem turned out to be localized.) For a while thereafter, the chimera episode was sometimes referred to as "Francesca Doe".
Ad blocker interference detected!
Wikia is a free-to-use site that makes money from advertising. We have a modified experience for viewers using ad blockers

Wikia is not accessible if you've made further modifications. Remove the custom ad blocker rule(s) and the page will load as expected.