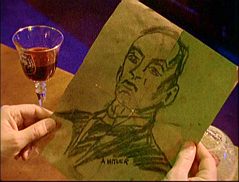 In 1918, Nick Knight and Lucien LaCroix were on a train near the German border, and struck up a conversation with a fellow passenger, Adolf Hitler, at that time merely a young corporal in the army who was very dissatisfied with the current political situation. To while away the time, he drew a sketch of LaCroix. LaCroix later got him to sign it.
At the end of the episode Jane Doe, LaCroix burns the sketch.
Ad blocker interference detected!
Wikia is a free-to-use site that makes money from advertising. We have a modified experience for viewers using ad blockers

Wikia is not accessible if you've made further modifications. Remove the custom ad blocker rule(s) and the page will load as expected.