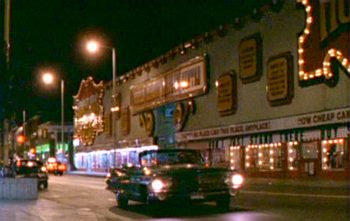 Honest Ed's is a bargain department store that has become a Toronto icon. Although never specifically featured in an episode of Forever Knight, it was seen in many.
The intersection of Bloor and Bathurst was one of the frequent locations used for street shots in Forever Knight. Nick Knight was often seen driving in his car west along Bloor, or driving north up Bathurst and turning west onto Bloor. In either case, the angle of the shot invariably included Honest Ed's in the background. Its flashing fairground lights are an unmistakeable Toronto landmark.
Honest Ed's was founded in 1948 by Ed(win) Mirvish (1914-2007), who oversaw its operations until his death. It remains a family-owned enterprise. The store takes up the full length of the block on the south-west corner of the intersection of Bloor Street West and Bathurst Street. The frontage is covered with huge red and yellow signs lit up like a theatre marquee with 23,000 flashing light bulbs. In between the signs featuring the store's name are painted punning slogans such as "Only the floors are crooked!" The store has a wide range of departments, run in a no-frills fashion that permits prices to be kept low.
External Links
Edit
Ad blocker interference detected!
Wikia is a free-to-use site that makes money from advertising. We have a modified experience for viewers using ad blockers

Wikia is not accessible if you've made further modifications. Remove the custom ad blocker rule(s) and the page will load as expected.