The Hotel Perceval appears in two episodes of Forever Knight. In "Dead Air", a murder victim is found in one of the guest suites. In "Spin Doctor", the Convention Centre in the hotel hosts the campaigns of both the major candidates for mayor of Toronto. The Hotel Perceval looks like a moderately high-priced downtown hotel, in the same sort of bracket as a Hilton Hotel.
The death in "Dead Air" is simply one of a series of murders called in to Dr. Christina Noble, the host of a pop psychology radio program on CTOK. The killer's real motivation is to torment Dr. Noble, and the murder victim is merely a means to this end. The role of the Hotel Perceval in "Spin Doctor" is significantly greater.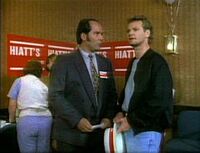 Partisan politics complicate the investigation, since Dr. Lambert supports one candidate and Det. Schanke supports the other. Each of them takes time off, contrary to policy, in order to work for their preferred candidate at the campaign centre in the Hotel Perceval.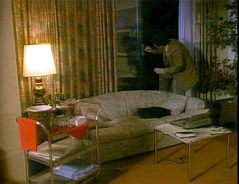 However, the election campaigns are complicated by more than the usual quota of dirty tricks. A reporter is murdered in one of the bedrooms upstairs in the hotel; and the police soon discover that he had been about to reveal a scandal involving one of the candidates. Could he have been murdered by the candidate or someone working on their campaign?
Ad blocker interference detected!
Wikia is a free-to-use site that makes money from advertising. We have a modified experience for viewers using ad blockers

Wikia is not accessible if you've made further modifications. Remove the custom ad blocker rule(s) and the page will load as expected.