In "Capital Offense", the police in Toronto arrest Laura Garfield, a convicted murderer who had escaped custody in Texas and fled to Canada. As she awaits extradition, Nick Knight decides to reopen the case, sure that she must be innocent. One of the witnesses, Danny Carruthers, is also in Toronto; and Nick discovers that he is staying at the Hotel Selby, a cheap hotel downtown.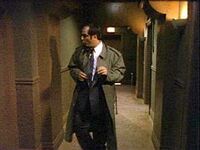 Schanke goes to the hotel to talk to Carruthers while Nick and a sergeant escort the prisoner to the
Toronto Island Airport
, where a plane awaits to take her to the US.
On the way, though, Nick insists on detouring briefly to the Hotel Selby so that he, too, can ask Carruthers about the evidence indicating Garfield's guilt. While he is upstairs, she strangles the sergeant guarding her, takes her weapon, and heads for the hotel room to silence Carruthers. Garfield succeeds in shooting him, but is killed herself.
Ad blocker interference detected!
Wikia is a free-to-use site that makes money from advertising. We have a modified experience for viewers using ad blockers

Wikia is not accessible if you've made further modifications. Remove the custom ad blocker rule(s) and the page will load as expected.