When Schanke becomes the target of an avenging assassin, Nick races the clock to save his partner.
Guest Cast
Edit
Detailed Story Recap
Edit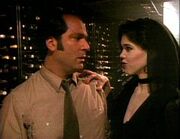 Vampire Lore
Edit
In the basement of the Raven, Janette runs a sort of hostel for vampires from out of town.
Very traditional vampires sometimes like to sleep in coffins.
Fan Fiction
Edit
Schanke: I promise you, I will be right back. Cross my heart.
Janette: Please don't do that in front of me.
Behind the Scenes
Edit
The German title for this episode is "Ein schlechter Verlierer" ("A Bad Loser").
Continuity
Edit
Canadian Content
Edit