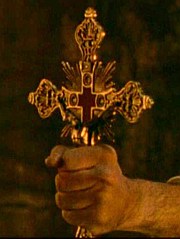 An elaborate jewelled cross is employed by the Inquisitor in the flashback scenes in "Sons of Belial".
In the late 16th century, Nick Knight and LaCroix are in Spain when they are taken prisoner by the Spanish Inquisition and thrown in a dungeon. Shortly afterwards, an inquisitor comes with guards for one of the other prisoners. Later, he returns for a second—a man with whom Nick has become friendly. To try to protect him, Nick reveals himself to be a vampire. The Inquisitor has a guard pour a barricade of oil, which is set alight; but the two vampires leap the flames. Even so, the Inquisitor's cross wards them off. However, their friend returns to knock the man out so that they can escape.
The cross appears to be made of gold, with the top and arms ending in elaborately wrought crowns. The centre of the cross is enamelled in red, also in the shape of a cross. A sunburst shape surrounds the top portion of the cross.
Ad blocker interference detected!
Wikia is a free-to-use site that makes money from advertising. We have a modified experience for viewers using ad blockers

Wikia is not accessible if you've made further modifications. Remove the custom ad blocker rule(s) and the page will load as expected.