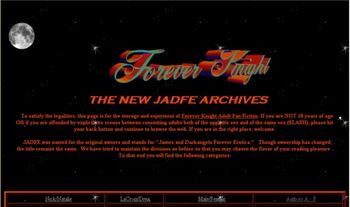 JADFE or "James and Darkangel's Forever Erotica" started as a Forever Knight mailing list focusing on adult-rated fan fiction. JADFE was started because the moderators of the main mailing list refused to allow slash fiction to be posted. However, the new list begun by James and Darkangel accepted adult-oriented Forever Knight stories from all couple factions, not just slash.
JADFE later became a Yahoo! group (at http://groups.yahoo.com/group/jadfe/).
Associated with the original mailing list was an archive for the stories that were posted. This was originally located at http://www.lantabooks.com/JADFE/index.htm,[1] then at http://www.evil.org/jadfe/,[2], and then at http://cyberguy.dynip.com/lady/jadfe/,[3] before finally being moved to http://coasteron.net/ladylc/jadfe/. A mirror site is hosted by Stephanie Kellerman.
Nominally still active, the archive last added new stories on 4 April 2003; but the front page was updated 30 July 2004 by the current owner, Lady Lacroix (Dianne Bugg).
Organization
Edit
The stories in the JADFE archive are indexed in two principal ways: by author's name (alphabetically by surname), and by pairing. In addition, there are sections for humour, challenge, and crossover fiction.
A number of pairings are considered significant enough to have their own separate index. There are also several "catch-all" sections:
Nick/Natalie
Nick/LaCroix
LaCroix/Natalie
Janette/Natalie
Nick/Nat/LaCroix
LaCroix/Divia
LaCroix/Schanke
Vachon/Tracy
Nick/Janette
Male/Male
Male/Female
Female/Female
Multi Pairings
External links
Edit
Partial Copy
Edit
On 21 May 2007, Mel Moser reported on her LiveJournal blog that she was unable to access the JADFE archive. In order to keep the stories available, she therefore decided to use her own back-up files to create a new JADFE on www.fkfanfic.com.[4] By 23 May 2007, Mel had contacted the owner of JADFE and learned that the site was back up. However, she decided to make the copy anyway.[5]
In June 2007, therefore, Mel made a partial copy of the JADFE archive in its own section of www.fkfanfic.com. All the Nick/Natalie stories from the original archive were copied over, but little else. The stories were provided with a completely new layout and index. In the few months after it was started, a few new stories were uploaded to the site, the last of them on 3 August 2007.
References
Edit
Ad blocker interference detected!
Wikia is a free-to-use site that makes money from advertising. We have a modified experience for viewers using ad blockers

Wikia is not accessible if you've made further modifications. Remove the custom ad blocker rule(s) and the page will load as expected.