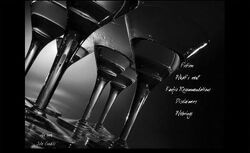 Jill Kirby's website (originally at http://www.kirbyfest.net/frontpage.html) showcased Jill Kirby's fiction in a variety of fandoms, including Forever Knight. There is an archived version of the site on the Wayback Machine.
A previous version of her site was originally at http://www.geocities.com/SoHo/Lofts/4107/, moved to http://users.rcn.com/kirby.enteract/, and shortly thereafter moved again to http://cageyklio.net/kirby/. This can be traced through archived redirects on each site.
For both versions of Jill's site, one or more of the Tables of Contents have been archived, but none of the actual stories.
It should be noted that Jill now archives her stories on DreamWidth.
The following is a list of the stories that were archived on http://cageyklio.net/kirby/.[1] As on the site, stories that are straight Forever Knight fiction are separated from those that are crossovers between FK and Highlander.
The annotations for each story are taken from the Table of Contents on the website.
Forever Knight
Edit
FK/Methos
Edit
"Rituals"
"Rituals" was my attempt to bring Methos into the FK universe. I had fun, yadda yadda... And then there needed to be a sequel. Never write a story that includes Natalie Lambert and Methos-- they're two of the bossiest characters around. I love them, but they give "headstrong" a whole new meaning. This first story is about as close to an action story as I get.
"Passages"
Though this story is very different from the first, it's a continuation of the story chain. This second story is rated "adult" for sexual situations and language. Please do not read it if you're under 18.
FK/Duncan
Edit
"Honor the Heart"
"Honor the Heart" is a crossover with the "Highlander" universe, featuring Duncan MacLeod and Joe Dawson. It's set after the end of the second season. This was my first long piece of fanfic, and it was quite obviously written long before the end of season two. I wince when I read it now-- it seems too starry-eyed. But that's how it was written.
"The Heart of the Holidays"
"The Heart of the Holidays" is a Christmas story, written in 1995 as a Christmas present for Lillian Feden. This is primarily a "Forever Knight" story; Duncan is only in it long distance.
There's one last story in this series, "Debt of Honor," that will probably never be finished at this point. I may give up and end up posting it unfinished. We'll see.
References
Edit
↑

This information is copied from the table of contents on the archived version of the site.
Ad blocker interference detected!
Wikia is a free-to-use site that makes money from advertising. We have a modified experience for viewers using ad blockers

Wikia is not accessible if you've made further modifications. Remove the custom ad blocker rule(s) and the page will load as expected.