In a wooden box that he has carried down the years, Nick Knight keeps a crude wooden cross that he was given by Joan of Arc. He encountered her more than once in her brief life, being attracted by her courage and faith. But, from his perspective, their most significant meeting came in 1430, when she was a prisoner at Rouen awaiting execution. Nick offered once again to bring her across; but she refused to save her life in such a way, preferring to burn at the stake rather than lose her soul.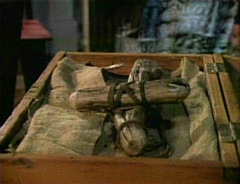 In the episode, "For I Have Sinned", Nick shows Natalie Lambert the cross and tells her its history. This is followed up in a later episode, "I Will Repay". Nick has brought across Natalie's brother, Richard; but he turns out to be uncontrollably savage as a vampire. When he turns on his own wife and sister, Natalie is able to grab Joan's cross from its box and use it to fend Richard off, at least briefly.
Ad blocker interference detected!
Wikia is a free-to-use site that makes money from advertising. We have a modified experience for viewers using ad blockers

Wikia is not accessible if you've made further modifications. Remove the custom ad blocker rule(s) and the page will load as expected.