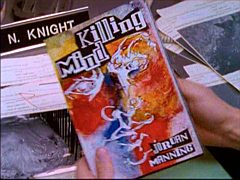 Killing Mind is the autobiography of Jordan Manning, the murderer in Jane Doe. However, the book has been published as a work of fiction about a serial killer. As such, it has been received with critical acclaim for its insight into the deviant mind, and become a best-seller.
The only person who believes that Killing Mind betrays Manning's guilt is Captain Reese. As a young detective, he was certain of Manning's guilt in a series of racially motivated murders for which no one was brought to trial. While others see Killing Mind as insightful, Reese recognizes that Manning is drawing on his own experience in writing it. He believes that in publishing the book, Manning is thumbing his nose at the justice system. He therefore determines to find the evidence for an arrest.
The Dust Jacket of Killing MindEdit
The front cover of the jacket of Killing Mind is brightly coloured with a medley of shades overdrawn with a sketchy, skewed white outline of a human face. The title and author's name are written with letters in a variety of type faces. The artist who drew the cover clearly intended it to symbolize the twisted, fractured mind of the serial killer who is its subject.
The back cover of the jacket of Killing Mind has a black background.
In the centre is a large photograph of Jordan Manning, with his name underneath. Like most publicity photos, this is carefully photographed to show the subject at his best.
Above the picture is an excerpt of text:
"Evil is not extraordinary: precisely the opposite. It's banal, quite commonplace. You'll find it in the least-likely places. It's like this: we're, each of us, equal of us, equal parts God and Satan. In a sense--"   (sic)
Below the picture, on the right, is the bar code, which includes the book's ISBN number: 4763-7679-9. Vertically alongside the bar code box is written, "Fiction".
Below the picture, on the left, is the publisher's blurb (not all of which can be seen on screen). What we can see says:
Through these graphic and always pain-filled case histories, Manning brings forth the shocking truth [...]"
Ad blocker interference detected!
Wikia is a free-to-use site that makes money from advertising. We have a modified experience for viewers using ad blockers

Wikia is not accessible if you've made further modifications. Remove the custom ad blocker rule(s) and the page will load as expected.