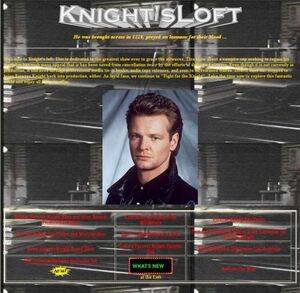 Knight's Loft (http://www.foreverknight.org/KnightsLoft/) is an informational fan website about the Forever Knight series and its fandom.
Knight's Loft included the following:
separate links pages for:

official websites, mailing lists, fan clubs
faction sites, organized by character
personal fan websites
fan fiction archives, fanzines, and merchandise

a small screen capture archive
a small sound capture archive, and links to others
information on attempts to revive the show
FORKNI-L@LISTS.PSU.EDU digest archive from 1 January to 7 February 1998
Immortal Beloveds discussion list page, which included:

biographies of faction members
small screen capture archive
small fan fiction archive
Immortal Beloveds discussion list archive from 28 April 1998 to 31 August 1998
Site History
Edit
Knight's Loft was created some time before October 1999, which is when it was first archived. No alterations were made to the site during the rest of its existence. Some time after February 2003, it disappeared from the Web.
It should be noted that the Immortal Beloveds section of the site is Time Jordan's first version of what would eventually become a separate website, Forever Knight Immortal Beloveds (http://www.geocities.com/TelevisionCity/Stage/5112/ ).
Archive Location
Edit
The Knight's Loft site was originally located at http://www.geocities.com/TelevisionCity/6890/). (A copy is archived on the Wayback Machine.) A restored version has been added to the Forever Knight Website Archive.
The main page of the site looks fairly complete, since its background and logo have been archived; and the various links pages of the site have all been preserved. All 71 FORKNI-L digests are also present. However, the screen and sound capture archives are missing.
The Immortal Beloveds' fan fiction has all been archived, but none of their discussion list digests is preserved.
Ad blocker interference detected!
Wikia is a free-to-use site that makes money from advertising. We have a modified experience for viewers using ad blockers

Wikia is not accessible if you've made further modifications. Remove the custom ad blocker rule(s) and the page will load as expected.