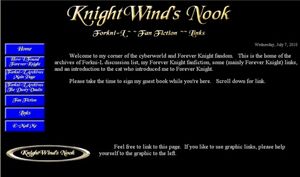 Knightwind's Nook is a Forever Knight fan website belonging to Nancy Braman. Besides a small collection of her stories, the site archives posts made to FORKNI-L@LISTS.PSU.EDU from 2000 to the present.
Contents of the Site
Edit
The following material is included (as of July 2010):
Fan Fiction
Edit
The following stories (all by Nancy Braman) are archived on the website:
External Links
Edit
Ad blocker interference detected!
Wikia is a free-to-use site that makes money from advertising. We have a modified experience for viewers using ad blockers

Wikia is not accessible if you've made further modifications. Remove the custom ad blocker rule(s) and the page will load as expected.