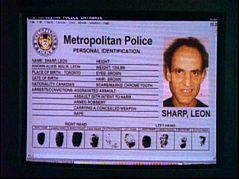 After Nick Knight partly recovers his memory in Night in Question, he checks police records to identify the man he recalls shooting him at the Parade Warehouse. He discovers that the face he saw belongs to one Leon Sharp, and then looks up the man's Metropolitan Police Personal Identification Record in the police computer system.
The Personal Identification Record Nick looks at on screen has the following elements which would be common to all such records:
At the top it says "Metropolitan Police".
There is a crest in the upper left corner: it has the words "Metropolitan Police" written around it; in the central roundel there is a large yellow symbol on a black background, with a shield in the middle. The shield has a red chevron, and resembles that of the Metropolitan Toronto Police. (See Crest.)
The information specific to this particular criminal includes the following:
A picture on the right, with the name "Leon Sharp" underneath.
Known alias: Leon Malik.
Height: (left blank).
Weight: 129 lbs.
Place of birth: Toronto.
Hair: brown.
Eyes: brown.
Date of birth: (left blank).
Nationality: Canadian.
Scars/marks: chrome tooth.
Arrests/convictions:

Aggravated assault
Assault with intent to harm
Armed robbery
Carrying a concealed weapon
Rape

Fingerprints (of both hands) at the bottom.
Ad blocker interference detected!
Wikia is a free-to-use site that makes money from advertising. We have a modified experience for viewers using ad blockers

Wikia is not accessible if you've made further modifications. Remove the custom ad blocker rule(s) and the page will load as expected.