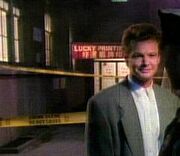 In "Cherry Blossoms", a Chinese witness is ambushed and her guards shot; but she manages to escape, although she is injured. Nick Knight canvasses the area in which she has disappeared. At the end of the alley is the shopfront of the Lucky Printing company. Above it is the office of a Chinese acupunturist and herbalist, Dr. Chong.
Nick eventually discovers that Dr. Chong has been secretly treating the missing witness.
Ad blocker interference detected!
Wikia is a free-to-use site that makes money from advertising. We have a modified experience for viewers using ad blockers

Wikia is not accessible if you've made further modifications. Remove the custom ad blocker rule(s) and the page will load as expected.