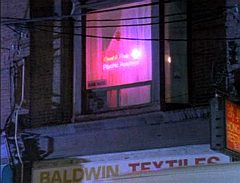 in the episode "Forward Into the Past", Madame Natasha's Psychic Readings is (or was) a fictional small business in downtown Toronto, upstairs from Baldwin Textiles. The full name of the woman who uses "Madame Natasha" as her professional name is "Natasha Perry". She works out of her apartment, giving readings in the living room.
Natasha Perry has an assistant, Ava Franklin, who likes to term herself an amanuensis. Whereas the probability is that "Madame Natasha" is a complete phony, Ava does have some real psychic abilities.
Natasha Perry is actually an alias: the woman known as Natasha Perry was born Madelyn Pinchot. In the early 1950s, she was personal secretary to Katherine Barrington, the wife of a successful businessman. But Gordon Barrington was murdered by his business partner, Jeremy Stanton, who then tried to kill Katherine as well. Both Katherine and Madelyn were provided with false identities so that they could escape and be safe.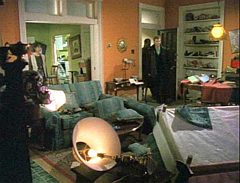 Living in Toronto, even under an alias, proved to be Natasha Perry's undoing. She accidentally ran into Jeremy Stanton; and, even though decades had passed, he recognized her. She refused to admit her real name; but Stanton knew, and hired someone to kidnap and torture her in order to find out where Katherine now was. Madelyn refused to speak, and eventually died.
Her murder was investigated by Nick Knight and Don Schanke. When they went to her place of business, they discovered that it had been thoroughly searched. They interviewed Ava, who said that it had been that way when she arrived. She was unable to help the detectives further. Nevertheless, Stanton thought she might know something, and had her tortured to death also. Her body was found in "Madame Natasha"'s apartment.
Ad blocker interference detected!
Wikia is a free-to-use site that makes money from advertising. We have a modified experience for viewers using ad blockers

Wikia is not accessible if you've made further modifications. Remove the custom ad blocker rule(s) and the page will load as expected.