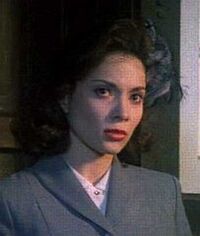 In the early 1950s, Madelyn Pinchot worked as personal secretary to Katherine Barrington, the wife of a very successful businessman, Gordon Barrington of Barrington Stanton Industries. However, her relationship with Katherine went beyond that of employer and employee. The two were close friends, and she was Katherine's confidant.
When Katherine's husband died, apparently in a car accident, the widow was certain that he had actually been murdered by his business partner, Jeremy Stanton. She therefore refused to sell Stanton her shares; and shortly thereafter there was an attempt on her life, also.
It was Madelyn who noticed fumes coming from the garage. Suspecting that Katherine was inside, she tried to open the door; but its mechanism had been sabotaged. Fortunately, the Barringtons' old friend, Nick Knight, had come to pay his respects to Katherine on hearing of Gordon's death. He was able to rescue her; but to do so he had to reveal that he was not entirely human. Madelyn did not take the discovery well; and he hypnotized her into forgetting the details of the rescue.
Nick then arranged with Aristotle for the two women to disappear into new identities. Madelyn was provided with the new name, "Natasha Perry", and copious false documentation of her fake past. This included her having been born in Winnipeg, gone to McGill University as an undergraduate, and completed a Master's degree at the University of British Columbia. Indeed, Aristotle even included data on how many boxes of cookies the supposed "Natasha Perry" had sold as a Girl Guide.
Over the years, Katherine must have kept in touch with Madelyn (or Natasha). In the 1990s, now remarried, she moved back to Canada to live in Hamilton. Madelyn was actually back in Toronto, making a living as a fortune teller, working out of her living room. She had a single employee, Ava Franklin, who served as her amanuensis—much as she had once been Katherine's.
The belief that it would now be safe to live in Toronto proved dangerous. One day, Jeremy Stanton ran into Natasha Perry on the street and recognized her as Madelyn Pinchot. He ignored her protestations of mistaken identity. Sure that she must still be in touch with Katherine, he hired a man to kidnap and torture her for information. Madelyn never betrayed her friend, and eventually died.
Her murder was investigated by Nick Knight and Don Schanke, who eventually arrested Jeremy Stanton for the crime.
Ad blocker interference detected!
Wikia is a free-to-use site that makes money from advertising. We have a modified experience for viewers using ad blockers

Wikia is not accessible if you've made further modifications. Remove the custom ad blocker rule(s) and the page will load as expected.