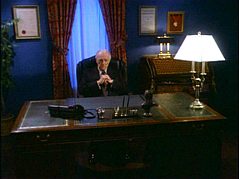 The Maison DuChamps ("The House of DuChamps") is a financial services company with head offices in Toronto. It has been a family-owned company for three centuries. Until the events of "Blood Money", they had handled the De Brabant Foundation funds for many years: the current head of the family, Charles DuChamps, is completely trusted by Nick Knight to handle the foundation's affairs.
In "Blood Money", Charles DuChamps is murdered; and his son, Sean DuChamps, is blackmailed into paying his enormous gambling debts by embezzling from the De Brabant Foundation. Nick recovers the money, and takes the funds away from the Maison DuChamps.
Ad blocker interference detected!
Wikia is a free-to-use site that makes money from advertising. We have a modified experience for viewers using ad blockers

Wikia is not accessible if you've made further modifications. Remove the custom ad blocker rule(s) and the page will load as expected.