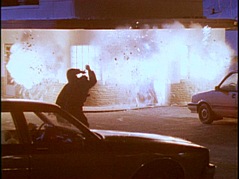 In "Blood Money", the principal suspect in the car bombing that killed Charles DuChamps is a man named Polchuk—a known bomb-maker whose "signature" is identified by Dr. Lambert when the debris is examined. Det. Schanke therefore goes to the Somaton Arms Hotel to question Polchuk. However, just as he is approaching the building, there is a violent explosion inside.
Subsequent investigation reveals that the man who hired Polchuk to kill DuChamps, George Walken, had Polchuk himself killed in order to cover his tracks.
Ad blocker interference detected!
Wikia is a free-to-use site that makes money from advertising. We have a modified experience for viewers using ad blockers

Wikia is not accessible if you've made further modifications. Remove the custom ad blocker rule(s) and the page will load as expected.